Chronic Headache & Migraine Therapy
There's a better way to treat chronic migraines & headaches
If you suffer from chronic migraines, you know how difficult they are to effectively diagnose and treat. The TruDenta system of diagnosis and treatment was developed to help uncover and resolve the frequently-overlooked causes behind your chronic migraines.
Uncover the hidden causes of your chronic pain
The TruDenta diagnostic process uses the latest technology to closely examines the nerves, muscles, and ligaments that surround the head, neck, and jaw to find any signs of the inflammation and chronic stress that can lead to constant headaches.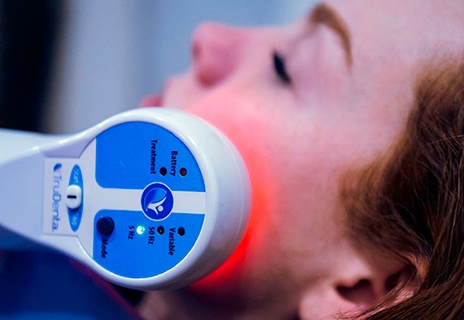 Safe and Lasting Treatment
If examination shows that your headaches are actually being caused by musculoskeletal problems, we can help. All TruDenta doctors have years of experience as dental professionals working with the delicate musculature of the jaw, neck, and head—a perfect background to implement TruDenta's process of progressive rehabilitation and physical therapy for the damaged joints and stressed musculature that cause chronic headaches.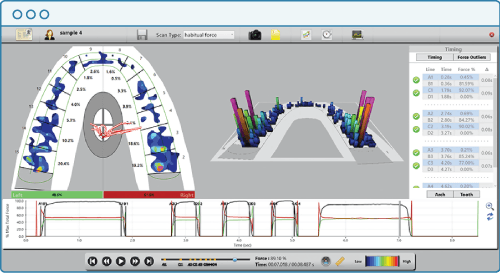 Get to the Root of your Chronic Migraines
If you are looking for help Dr. Peri can help you get the care you need. Our priority is to deliver the highest quality mouth and jaw therapy to our patients in a comfortable and understanding setting. We primarily serve Warren, Michigan and the surrounding areas.

Assessment Process Treatment Process:
Bite Force Analysis
Range of Motion Analysis
Headache History Form
Muscle Exam
Head Health Questionnaire
Bite Force Analysis
Bite Force Analysis
The TruDenta T-Scan technology allows us to precisely assess your mouth and jaw for dental imbalances during opening, closing, and chewing, right down to the amount and direction of the force exerted by each individual tooth.
Treatment Process:
Ultrasound
Muscle Therapy
Photobiomodulation
Each treatment plan is tailored to address the individual patient's symptoms, and includes the use of several FDA-cleared, painless technologies, including ultrasound, low-level photobiomodulation, microcurrent, and manual muscle therapy.
Different symptoms require from one to twelve treatments, each one hour long and completed weekly.